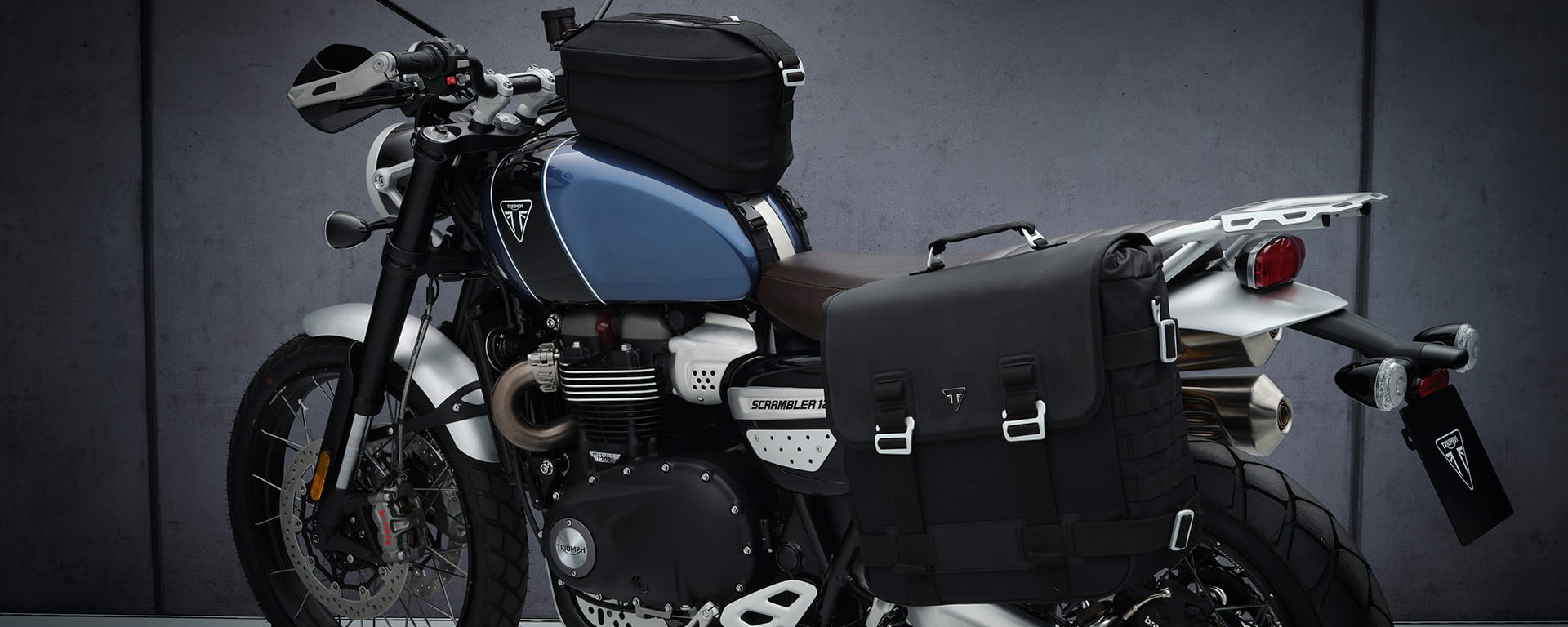 SCRAMBLER 1200 ACCESSORIES
make it yours
Designed and made to the same exacting standards as our modern classics, there are over 70 Genuine Triumph Accessories to help you get the most from your Scrambler.
From luggage, to style, security and all of your adventure essentials, including the latest integrated communications technology, there's something for every Scrambler rider.
HERE ARE SOME OF OUR FAVOURITES
FOR THE TOUGHEST OF TRAILS
If you're keen to fully unlock the Scrambler's off-road capability and want to attack the toughest trails, then there are some fantastic accessories available to protect both you and your bike.
Handguards (OE fit on the XE) offer protection from overhanging branches and foliage on tight and technical trails as well as keeping the wind off your hands at higher road speeds. A simple addition that protects hands and controls while adding real off-road style.
The high-level front mudguard is another great modification that adds instant off-road attitude. Made from 2mm aluminium with a brushed and anodised finish for added durability.
Stainless steel dresser bars offer protection to the alternator and clutch covers, giving peace of mind in rough and rocky terrain as well as guarding against any low-speed road spills. With their electro-polished finish and Triumph-branded rubber join, they look great, too.
Knee pads are far more than just a style item that echoes the Scrambler's 50s heritage. Offering excellent protection to the fuel tank from gritty kit on those mucky off-road rides, and giving the rider an enhanced tactile connection to the bike for even greater control, the knee pads are yet another excellent dual-purpose accessory.
Handguards
High-level front mudguard
Stainless steel dresser bars
Knee pads
MILES OF COMFORT
Big adventures often mean big miles — and many hours ticking them off on major roads and motorways. These accessories bring even more touring capability to the Scrambler.
The clear touring screen will reduce the windblast, drop the decibels and take the strain off your neck and shoulders, making it perfect for long highway stints.
Warm hands are absolutely key to all-seasons riding enjoyment. With a beautiful slimline design, they feature integrated dual temperature controls in the left-hand grip and display your chosen grip setting on the TFT instruments.
Featuring forged and fabricated grab handles, the grab rack doubles as both a secure grip for your passenger and as a very handy cargo accessory. With multiple tie-down points, it's perfect for carrying any additional luggage and with its subtle styling, keeps the Scrambler's lines clean and unspoiled.
Longer travel suspension invariably means that adventure bikes are a little taller than their more tarmac-focused counterparts. For those who prefer a lower saddle height, the genuine Triumph low seat is available in black or brown options, lowering the seat height by 25mm.
Clear touring screen
Heated grips
Grab rack
Low seat
TECHNOLOGY
The Scrambler is already packed with sensitively incorporated technology, but there are even more options available in the Genuine Triumph Accessory range to unlock its full potential. All designed to work in perfect harmony with your Scrambler.
The My Triumph connectivity module brings Bluetooth connectivity to the Scrambler. Turn-by-navigation, phone calls, notifications and music are all controlled by the left-hand switchcube, neatly adding the latest in contemporary motorcycle communications to this timeless modern classic. GoPro connectivity adds another element, and is a world-first feature for a motorcycle manufacturer.
Ensuring your tyre pressures are correct is a vital safety check, but one that's not always convenient. Triumph's tyre pressure monitoring system (TPMS) measures front and rear tyre pressures and displays the results on the Scrambler's TFT display. This smart system will also automatically alert you if the tyre pressures fall below optimum levels at any point during your ride.
My Triumph connectivity module
TPMS tyre pressure monitoring system
The Scrambler 1200: class-leading capability is just the starting point